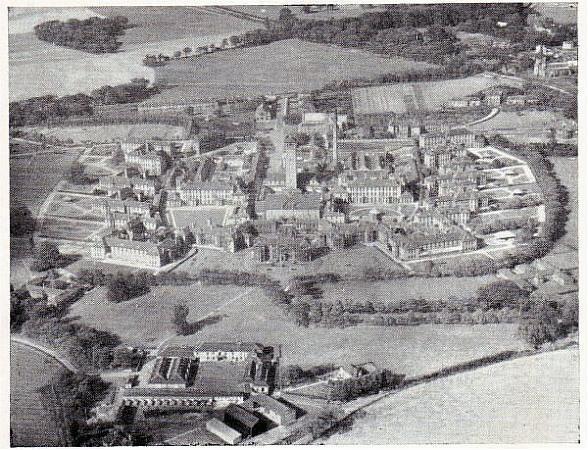 Cheshire County Lunatic Asylum
The Cheshire Record Office hold an incomplete set of staff records for the Cheshire County Lunatic Asylum located in Chester. The female staff records that have survived cover the surnames A-G for the years 1914-1946 and P-W (excluding T, U and V) 1909-1940. These records were created principally in order to record superannuation payments under the Asylum Officers' Superannuation Act 1909, so contain minimal personal information beyond name, date of birth, employment start and end date. In some cases details of previous employment in another Asylum is noted, as is the reason for leaving being "married".
The majority of the records relate to nurses but there are some for domestic staff such as cooks and housemaids. Despite their limitations they do provide some insight into the pressures experienced by Asylums during World War 1. In the Asylum's 1919 Annual Report the Medical Superintendent, Dr Grills, stated that fifty men on the books i.e. currently employed served in the forces for some time during the conflict. At least fourteen more resigned in order to join the army. The impact of this loss of men was reflected throughout 1915 in advertisements in the local press for men who are medically unfit for the armed forces to work as temporary attendants[1]. The staffing situation was aggravated by an increase in the number of patients due to Winwick Asylum near Warrington and the Chester Workhouse both being converted to military hospitals.
Chester Street Heritage – Chester Workhouses [A]
Prior to World War 1 women did not nurse on the male wards in the Asylum. However by 1916 the absence of male attendants meant that this strict demarcation had to end. In 1916 seventeen nurses were employed on male wards, a male private ward entirely staffed by nurses was opened in 1917 and by 1918 three male wards were staffed by women, eighteen of whom had been employed for this purpose. The total number of nurses employed rose from ninety-one in 1916 to one hundred and twenty in 1918. Asylum nursing had a much lower status than that in the voluntary hospitals. Practical skills such as dressmaking were frequently regarded as being more important than medical knowledge. The staff records contain several examples of women employed between 1914-1918 who started as domestic servants then became nurses, one being Ada Bowler who worked at the Asylum in 1916 and then between 1917 and 1920, first as a kitchen maid, then cook before becoming an ordinary nurse. Two hundred and twenty women were appointed between 1914-1918, according to the surviving staff records, of these 43% stayed in post for less than a year. In a few instances they were employed for less than a week, e.g. Kate Poynton, who started work on the 13th September 1916 and finished the following day!
There is no indication in the records as to why women left their post except in the rare instances when the word "married" has been noted. In the case of those women who were employed for less than a year did they leave because they were considered unsuitable for the post or did they find the job was not for them ? A newspaper report in 1917 concerning the assault of a former nurse, Mary Elizabeth Parry, stated that after nursing at the Asylum during 1916 she left to become a clerk at the munitions factory outside Chester.[2] It seems plausible that low pay, long hours, hard physical work, limited freedom and the requirement to "live in" led to many women leaving posts at the Asylum for better paid work in munitions and offices. This reflects the exodus of women from domestic service throughout the war years.
From Daily Mail [B]
However a number of the women appointed during the war years remained at the Asylum for the remainder of their working lives. Penelope Thomson, was promoted from assistant nursing matron to matron early in 1916 ( her staff record does not survive so her start date between 1911-1916 is not certain), a role she stayed in until retirement in 1948. Her replacement as assistant nursing matron, Gertrude Drower began work at Chester in May 1916 and remained in post until June 1937. It should be noted that both women had worked in other nursing roles and Asylums prior to being appointed to the posts in Chester. Among the domestic staff there are examples of long service eg. Annie Anderson, who was employed as a cook early in 1914, aged forty-two and remained until retirement in March 1939.
In 1917 limited food rationing was introduced in Britain to combat shortages. The Asylum had its own farm. During the war some of the airing courts were dug up to extend the available land for cultivation. Male staff and patients had worked on the farm; by 1917 the absence of male staff meant that fifty female patients and twenty women staff were engaged in agricultural work. A poultry farm was established in outbuildings at Bache Hall ( part of the Asylum estate ) and a Miss Hartley became poultry keeper in October 1916. Unfortunately her staff record has not survived.
In identifying the women employed, including those replacing men in nursing and administrative roles, at Cheshire County Lunatic Asylum, the Asylum staff records provide an important and immensely interesting starting point for researching this aspect of the Home Front.
Carol Coles (c) May 2015
Carol Coles worked for twenty-two years, for a number of NHS administrative organisations, in the 1829 Building, the original part of the former Cheshire County Lunatic Asylum.
1829 Building – Chester County Lunatic Asylum
[1] Chester Chronicle – Chester, 1915 [ http://www.findmypast.co.uk accessed February 2015]
[2] Chester  Chronicle – Chester, October 27th 1917, p.3 [http://www.findmypast.co.uk accessed February 2015] [A] http://www.chesterlestreetheritage.org/page58.html (accessed by WHN Blog 7 June 2015)
[B]
https://www.google.co.uk/search?q=1917+rationing&rls=com.microsoft:en-GB:IE-SearchBox&source=lnms&tbm=isch&sa=X&ei=2YSZVfXxFqGgyAPnzITYCA&ved=0CAcQ_AUoAQ&biw=1280&bih=899#imgrc=M7XT1UU8lS0xcM%3A(accessed by WHN Blog 
7 June 2015)