The Women's History Network wanted to challenge young researchers to get inspired by the diverse and rich histories of black women in Britain and to create a piece of art that reflects the history of either a group or an individual. We had some fantastic entries and we would like to thank and congratulate all students who took part.
The winners of the competition recently had the exciting opportunity to go to the studios of Freya Bramble-Carter to turn their designs into reality.
The students had an incredible behind-the-scenes look at this wonderful artist at work while carving and painting their own designs onto plates. Freya generously shared her time and expertise to show the students how to bring their vision to life in clay.
'I like doing cosmic things and blending colours and thinking about patterns in nature, so I wanted to do somebody from space. There aren't any Black British women astronauts yet, so I decided to do an astronomer, and her name is Maggie Aderin-Pocock,' says Eloise. Eloise designed her powerful image using digital technology. 'I learned so much from my day out with Freya,' said Eloise, 'all the different layers and the different steps it takes to make pottery.'
'My mum knew about Mary Seacole and she helped me. I did a collage and chose loads of different bits,' said Connor.
Noah created an incredibly beautiful representation of Fanny Eaton, whose image made a powerful impact on Victorian society.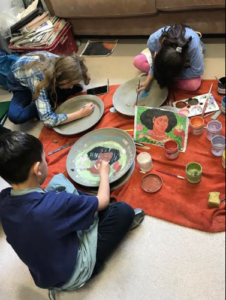 'I chose Lilian Bader who was the first Black woman in the air force. It's important we know about different people so that no one gets discouraged and thinks they can't do something. It's also important we don't know about one culture or history more than others, so we can understand all kinds of different people,' says Cerys.
'I knew about Freya because she was on the Great British Pottery Show. She was my favourite person on the show so I felt really happy to meet her. It was a very nice day. We carved our designs into the plates she had rolled out. Then we got to paint the colours on. When I put the aeroplanes around the sides it looked really good.'
'The teachers made their own pots too and they looked really good actually! Miss Chandra got to go on the wheel; it was really funny – and also really cool! Freya was really kind,' says Cerys.
The finished plates are designed to be functional and used so that the student-artists can bring their art into their everyday lives. This was a great way to bring history and art together in an inspiring way, and we are very grateful to Freya for all her help with this competition!