This information is reprinted from the British Serb Magazine, this section of which was sent to WHN Blog by Zvezdana Popovic. She has been assiduous in keeping the WHN informed of these activities for which I am grateful. Robin Joyce
MEMORIAL SERVICE FOR WOMEN IN FOREIGN MEDICAL MISSIONS IN THE GREAT WAR
March 15, 2018
Text by Zvezdana Popović, photos also by Nenad Obradović
Remembering the women who risked and sacrificed their lives in Serbia and the related fronts
Amongst the various centenary events that commemorate the Great War's battles and war heroes, I was honoured and grateful to be a part of several special events. One of them was our 4th  Annual Memorial Service for Women in Foreign Medical Missions who risked and sacrificed their lives in Serbia and related fronts during the Great War.
The ceremony in Serbian Orthodox Church St Sava on 25th February 2018 was followed by the exhibition and talks about these courageous women. The talks were set in Lady Paget Hall, another heroine of the Great War, and in the background we could see her decorations. Among the guests from the Serbian and Greek embassies, Serbian church and various Serbian organizations, was Princess Katarina, who also came last year to hear Alan Cumming's presentation, Dr Eona Bell (great-niece of Elsie Inglis) with her son, Liz Middleton whose ancestors were directly involved in combating the typhus epidemic in Serbia, in 1915, and many others.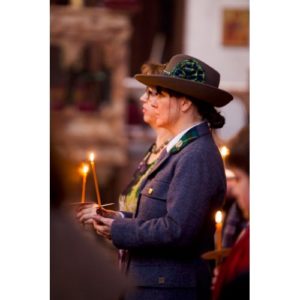 The programme was chaired by Olga Stanojlović, Chairwoman Serbian Council of Great Britain and proudly supported by the Trailblazers Project plus Big Ideas Company, The Serbian Orthodox Church of St Sava, the Embassy of the Republic of Serbia , The Serbian Council of Great Britain, the Circle of Serbian Sisters 'Kosovo Maiden', the Serbian Society, the Serbian City Club and Britić.
This is a truly unique manifestation since we commemorate ALL women in foreign medical missions from various organizations and those who came to Serbia alone.  This year we focused on Scottish Women's Hospitals – University of Glasgow alumni.
When I got reply from the University of Glasgow that 13 of their alumni were in Serbia or Salonika front with the Serbian and French armies, I was amazed by their courage, enthusiasm, humanity and philanthropy. (Also, how the University keeps the memory of these women alive in their Roll of Honour.)
This is a part of the email sent by the duty archivist from the university.
I have done some searching through our University of Glasgow WWI Roll of Honour database and have come up with the following list of alumni who were involved with the Scottish Women's Hospital either in Serbia or Salonika.  Some, as you will note, have more extended biographies than others.
Truly remarkable stories. Please, visit their website and read. 
Two of  University of Glasgow current  alumni – Rona Passmore and Marjory Montgomerie – came to the commemoration to represent the university.
Our guest from Edinburgh, Ailsa Clarke, talked more about Elsie Inglis, Katherine and Isabel MacPhail and Anne Louise McIlroy in her presentation. Ailsa was dressed as Dr Elsie Inglis. Her talk was  inspirational and this remarkable quote caught everybody's attention.
'I cannot think of anything more calculated to bring home to men the fact that women can help intelligently in any kind of work… So much of our work is done where they cannot see it.
They will see every bit of this.' (Dr Elsie Inglis)
Today, in 2018, when we are talking about suffrage movement, we need to pause and think about the real heroic DEEDS, not about smashing shop windows or bombing churches!
Amongst University of Glasgow alumni was Dr Elizabeth Ross, not a member of SWH, but a doctor who came on her own accord to Serbia, took the job at First Reserve Military Hospital in Kragujevac and died less than a month later on her 37th birthday – on Valentine's Day, 14th March 1915.
Kragujevac, Serbia and Serbian community in Britain did not forget Dr Ross and other  women who died in Serbia and Salonika front. We also remember Serbian women doctors and nurses who shared the same fate, like Ljubica Lukovic, who died in Nis, and famous painter Nadezda Petrovic, who died of typhus in Valjevo, in 1915 – both founding members of  the Circle of Serbian Sisters. One of the first Serbian woman doctors – Draginja Babic – died in Valjevo in February 1915, almost the same day as Dr Elizabeth Ross and Madge Neil Fraser.
In Autumn 1914, Katherine MacPhail was just 27 years old, when she joined a group of 30 women who comprised the staff of the first unit of SWHs in Serbia. Equipped as a surgical unit with 100 beds, completely supplied with all necessary equipment, they almost immediately had to take care of 200 patients and number was growing. The staff consisted of 5 doctors (Katherine was the youngest), trained nurses, orderlies, ambulance driver and Annie Christitch, journalist of Serbian origin who was there to teach them Serbian.
Katherine MacPhail wrote later: "We were all extremely proud to have the opportunity to show what women can do in the most difficult circumstances, but our real aim was the urgent need to help the Serbs."
On the way to Kragujevac they stopped in Skopje where they were greeted and briefed by Lady Leila Paget. All these hospitals and medical workers worked together, supported each other, nursed ill colleagues and died together. For example, Major Dr Dimitrije Antic from the First Reserve Military Hospital, barely recovered from typhus, desperately needed help and Dr Elizabeth Ross gave her life.  In February/ March 1915, in four consecutive Sundays they buried four people – Dr Elizabeth Ross, sister Louise Jordan, Madge Neil Fraser, sister Augusta Minshull and wondered who would be next. Another Serbian Relief Fund – Mabel Stobart's – large field hospital arrived in April, and two of their members – Mabel Dearmer and Lorna Ferris died soon.
These six women came from three different medical organisations – how can we remember only one group and ignore the others?!
On Sir Ralph Paget's invitation, Katherine and another doctor – Adeline Campbell – went to Smederevska Palanka and managed to save the doctor. After that, the pair got wind of another typhus hospital in Belgrade in desperate need of help and, with the permission of their medical chief, rushed to its aid. However, the committee of the SWHs took a very dim view of these flighty doctors who were still contracted to them but nevertheless strayed across the country. Sure, their hard work was undoubtedly appreciated. (Katherine herself fell ill and nearly died, in the end she lost hearing in one ear but narrowly escaped losing a leg.) But the SWHs had a point to prove to their male counterparts and their committee simply could not tolerate anything which reeked of 'anarchy'. They would not engage the two doctors again.
Katherine MacPhail's life story is fascinating; beautifully presented in Dr Z. Mikic's  book "Ever Yours Sincerely: the Life and Work of Dr. Katherine S. MacPhail". During the war years, Katherine and her sister Isabel were in various medical units and organisations at Corsica, Malta, France, Salonika, Serbia…  Their bravery, altruism and resourcefulness are amazing. I could not stop reading the book!
The development of orthopaedic surgery in Novi Sad and Serbia is related to the name of Dr. Katherine MacPhail.  "After the war, she remained in Serbia and, in 1921, founded the first children's, co-called English-Serbian Hospital; then, in 1934, established English-Yugoslav Children's Hospital for Treatment of Osteoarticular Tuberculosis in Sremska Kamenica, which remained open until 1941. After the end of World War II, as early as in 1947, Dr. MacPhail returned to Sremska Kamenica, where she reactivated the hospital. After the nationalisation of the hospital, she left for Scotland, but the hospital kept working, first under the supervision of the Belgrade Clinic for Orthopedic Surgery and Traumatology." Z.Mikic
Peter Beckley, from The Norfolk & Norwich Novi Sad Association, could not attend the event, but he sent us a letter (read by Misa Gavrilovic) informing us about Katherine MacPhail Memorial Fund, The British-Serbian Benevolent Trust (which evolved from a long history of humanitarian support to Serbia from Britain since 1914) and The Norfolk & Norwich Novi Sad Association. All proceeds of the sale of the book were designed to support, in some small way, a part of the refurbishment of the Hospital that could be a memorial to Katherine and all the Scottish Women Doctors, Nurses, Ambulance Drivers and Administrators. (The book can be ordered from Peter Beckley.)
One of the famous photographs showing Katherine dancing kolo – traditional Serbian folk dance – at Salonika front, inspired me to end our commemoration fittingly with kolo. Six members of Rastko Folklore Group performed traditional Serbian dance – Šumadijsko kolo – in traditional costumes.
Actually, the whole programme ended with delicious canapé prepared by women from the Serbian community.
I would like to use this opportunity and to thank all guests for coming and all friends and members of the Serbian community who supported this event – particularly to Ailsa and Olga.
Zvezdana Popovic's work is recognised by the Godiva Trust
The Godiva Trust, a Coventry based community charity, has nominated Zvezdana for the prestigious "Woman of Achievement Champion Award" for 2018 – National Award Champion.
She says:
I am so happy and honoured that my work on women in medical missions in Serbia and the other fronts during the Great War has been recognised and appreciated. It gives me strength to continue!
In 2014 and 2015 I gave talks in Coventry and they remembered my endeavour to keep the legacy alive of thousands of brave women with determination, passion and inspiration. (Sounds nice!) Slavica Stojisavljevic nominated me.
Pru Porretta MBE is Coventry's official Lady Godiva for more than 30 years. The Trust riches out to people of different communities in Coventry and bring them together. Their website for more details about our work .