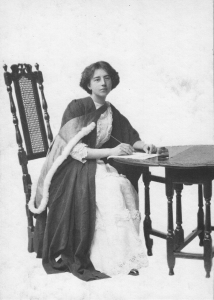 Katrina Kirkwood's 'Women doctors in WW1: fighting to do their bit', could be read in conjunction with the information provided by Zvezdana Popovic and recently publicised in the WHN blog (Deeds Not Words).
A 'Taster ' from Kirkwood's book, The Mystery of Isabella and the String of beads : A Woman Doctor in WW1 will be posted in April. A review of the book will be posted in May. In the meantime, Kirkwood's 'Women doctors in WW1: fighting to do their bit' and information about her and the book, appears below.  WHN Admin.
Women doctors in WW1: fighting to 'do their bit.'
Katrina Kirkwood
The Women's History Network blog has hosted several articles about the wonderful work of Elsie Inglis and the Scottish Women's Hospitals in Serbia during WW1[1], but their work is not the whole story of how women doctors battled their way through that conflict.
The War Office's response to Elsie Inglis' offer of a hospital fully staffed by women – 'My dear lady, go home and sit still' – has reached almost mythic status, but it is probably not as misogynistic as it seems. When Dr Inglis made her offer in summer 1914, the authorities were anticipating a short sharp war that would be over by Christmas. Reluctant to recruit too many staff – male or female – they had no idea that the medical services they planned would prove utterly inadequate.
Equally, it was not only the army that was discouraging women doctors from venturing overseas. On 31st August 1914, the feminist Millicent Fawcett warned women involved in 'doctoring and nursing':
'Large numbers of men doctors have gone to the front, and are very rightly volunteering for active service in the war. Only under very exceptional circumstances should women follow their example. Rather let them stay at their accustomed posts and help to fill the shortage of medical help caused by the necessary withdrawal of men doctors to the army. There is an unusual demand now for the services of women doctors at home. Let them do their best to supply it. It may be more exciting and thrilling to try to get on the staff of a field hospital, but this is more specifically men's work, and women may "hold the fort" just as truly and be quite as valuable to the nation by attending to the needs in sickness of the home population.'[2]
Yet even while Millicent Fawcett was advocating staying at home, Elsie Inglis and the Scottish Women's Hospitals were not the only medical women setting up independent ventures. The Women's Hospital Corps is a particularly important example. Established by two former members of the Women's Social and Political Union, Drs Louisa Garrett Anderson and Flora Murray, the WHC was allowed by the French authorities to set up a hospital in Paris. When the British military inspected the outfit, they were so impressed that they invited the two women to run military hospitals first in Wimereux and then in Endell Street, London.[3]
Even outside these female-run organisations, individual women doctors found ways of 'doing their bit'. For example, in March 1915 recently qualified Dr Isabella Stenhouse took the opportunity of joining the staff of a French Red Cross hospital behind the Front.[4]
The army's policy of refusing the assistance of female doctors had been dented by their invitation to WHC, but it broke down even further in the spring/summer of 1916 under the pressure of sheer medical necessity. Thousands of the men wounded during 1914-15 still needed treatment while the flow of sick and wounded soldiers from the front showed no sign of slowing down, making the need for doctors desperate. The authorities decided to risk an experiment and issued a letter inviting all qualified women doctors to volunteer for service with the Royal Army Medical Corps. Dr Stenhouse and thirty-nine other female doctors signed up in July 1916 and were posted to Malta.
On Isabella's ship, the women's ages ranged from 53 downwards, their experience as doctors from 22 years to 1 year. While most of them had no war experience, a couple of the others had, like Isabella, crossed the Channel to tend the wounded of Britain's allies. Other ships carried Dr May Thorne, a former President of the Association of Registered Medical Women; Dr Helen Hanson, a suffragist who had taken part in the 1911 census protest and a wealth of others.
The army was so satisfied with the women's work that more female medics were recruited and, in summer 1917, their contracts were renewed. Simultaneously, the RAMC began to employ medical women elsewhere. It was only when the pressures of war dictated that the women should be posted to larger theatres of war – Salonika and Egypt – that an issue concerning their contracts and conditions of service showed its full significance.
During the Boer War, the army had learned that in order to maintain discipline and carry out their jobs effectively, any male doctor working with the RAMC needed to receive a temporary commission, the right to wear uniform and various other privileges. However when the contracts for the women doctors were drafted, this fact had been ignored and the women had been denied all these essential privileges.
Un-uniformed, they looked like 'char women'. allowing privates to treat them with little or no respect. In-commissioned, their authority, experience and length of service were invisible, with the youngest and greenest male doctor out-ranking them and garnering more respect, more responsibility and higher pay.
Back in London, a campaign was mounted on their behalf with the Army eventually, and reluctantly, agreeing to allow them to wear uniform. The campaign for commissioned rank continued, but the war ended before that battle could be won, and it was not until WW2 that justice was finally done.
Dr Stenhouse and some of her colleagues, however, took matters into their own hands. Until her dying day Isabella maintained that she had been a Captain, the rank she would have had if she had been a man.
[1] DEEDS NOT WORDS : The Story of Dr Elsie Inglis | Women's History Network
[2] Evening Standard Aug 31st 1914, letter from Millicent Fawcett
[3] Deeds and Words in the Suffrage Military Hospital in Endell Street
[4] The Mystery of Isabella and the String of Beads: A woman doctor in World War 1: Amazon.co.uk: Katrina Kirkwood: 9780995489301: Books

Title: The Mystery of Isabella and the String of Beads: A Woman Doctor in WW1
ISBN: 978-0-9954893-0-1
 Publisher: Loke Press
Author: Katrina Kirkwood
Sold on Amazon and good bookstores.
Blurb:
It was the inscription that made the antique scalpels so tantalising: 'Isabella Stenhouse'. A woman doctor? A woman doctor who was rumoured to have served in the First World War? Could Isabella have treated wounded men with these very implements? And had a grateful German prisoner of war really given her the strange string of beads that tangled round her stethoscope? 
 Coaxing clues from archives across Europe, Katrina Kirkwood traces Isabella's route from medical school to the Western Front, Malta and Egypt, discovering as she travels that Dr Stenhouse was not only one of the first women doctors who worked with the British Army – she was also a woman carrying a tragic secret, torn between ambition and loyalty to her family.
 Isabella's story was selected for the BBC Antiques Roadshow's WW1 centenary edition, and featured by national, international and local media.
 'The quiet heroics of a woman on a WW1 battlefield' Daily Express