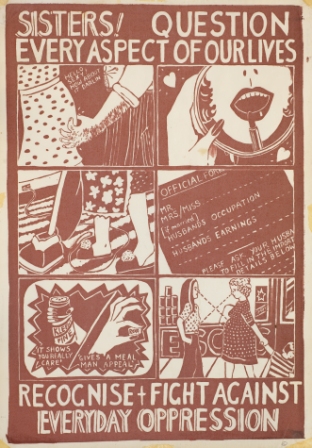 Courtesy of See Red Women's Workshop
Capturing the voices of a generation of feminist activists, 'Sisterhood & After' is a new oral history archive and website which launched at the British Library on 8th March on International Women's Day, and provides a free and relevant major resource to anyone interested in the history of feminism. The oral history project was also partnered with The Women's Library, which advised it, and directed by Margaretta Jolly at the University of Sussex. It was funded by The Leverhulme Trust.
Each of the 60 women activists recorded for this project campaigned for equality and freedom in the 1960s, 70s and 80s. These women demanded that struggles for gender rights be won at home as well as in the public sphere. They describe their own experiences as girls, socialised to expect less than their brothers. They also describe a rich range of political heritages that informed British feminism, from Black Power to Gay Liberation to socialism and disability rights.
Wages for Housework c.1975 Designed by B. Warrior
Given that the Women's Liberation Movement in Britain was a mass movement involving thousands of women from all over the country and from all walks of life, selecting just 60 to record was a challenge. Some of our interviewees are well known – Susie Orbach, feminist psychotherapist and author of Fat is a Feminist Issue and Jenni Murray, the voice of Radio 4'sWomen's Hour for example. But we also wanted to capture the stories of women who dedicated much of their lives to fighting for gender equality but were not in the public eye. Karen McMinn, Director of Northern Ireland Women's Aid from 1981–1996, for instance, described the risks involved in protecting women from domestic violence during 'the troubles', while Rowena Arshad, Equal Opportunities Commissioner for Scotland 2001-2007, talked about co-organising a pioneering black women's refuge in Scotland. We also recorded interviews with Barbara Jones about working as a builder and being a member of 'Women in Manual Trades', with Una Kroll, a one-time surgeon who played a key part in the Movement for the Ordination of Women and with Sue Lopez, one of the most prominent women football players in the 1970s who campaigned for women to be allowed to use Football Association pitches. The oral histories with these women last, on average, 7 hours and set the circumstances and consequences of a person's activism in a biographical and social context.
You can access the full life story recordings at the British Library but for a snap-shot of the archive log onto the Sisterhood & After website (bl.uk/sisterhood). The website has over 120 audio-clips taken from the oral history recordings, 10 bespoke films reflecting key campaigns and an Interviewees Page which includes a biographical sketch and portrait for each narrator.
Polly Russell, Lead Curator, Social Science and
Margaretta Jolly, Project Director, University of Sussex (c) May 2013
Dr Margaretta Jolly
Margaretta Jolly is the project's award holder and the project director. She is Reader in Cultural Studies in the School of Media, Film and Music at the University of Sussex. Margaretta's main interests are the art and use of life narrative and feminist cultures and histories. Her book In Love and Struggle: Letters in Contemporary Feminism, was joint winner of the Feminist and Women's Studies Association UK book prize, 2008, and she co-directs the Centre for Life History and Life Writing Research.
Dr Polly Russell
Polly Russell is a Lead Curator in the Social Science department at the British Library. Polly is responsible for collections relating to Human Geography and Anthropology and her research interests include feminism, oral history and food. She was the main British Library link for the project, working closely with the project team and library colleagues.
Project Team
More about the whole team behind the project is available in the 'About' section on the website: http://www.bl.uk/learning/histcitizen/sisterhood/about.html (accessed 13 May 2013)