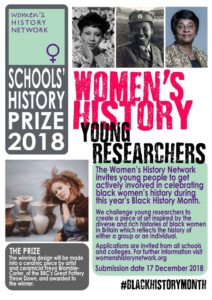 The Women's History Network is launching a competition to encourage young people to get actively involved in celebrating black history. Black History Month is celebrated in October, but the Women's History Network want to focus specifically on the history of black women. We want to challenge young researchers to get inspired by the diverse and rich histories of black women in Britain and to create a piece of art that reflects the history of either a group or an individual.
London based artist and ceramicist Freya Bramble-Carter – of the BBC's Great Pottery Throw Down – will interpret the winning design and create a ceramic piece that will be awarded as the prize to the winner. Freya's ideology centres around her identity as a black female artist with a strong voice that has derived from having a Rastafari father who through his own success introduced her to the world of clay.
Entries need to be created on A4 paper and submitted as a jpeg file. One of the images should include the student(s) involved.  Please complete and submit the entry form explaining the piece and the reasoning behind the image. Entries should be emailed to competitions@womenshistorynetwork.org.
DOWNLOAD ENTRY FORM: Schools' History Prize Autumn 2018
Submission date 17th December 2018