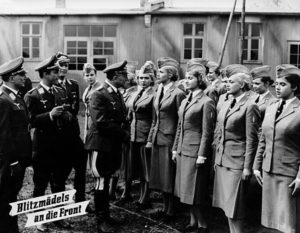 'Women, Oberführerin,belong in the kitchen and in bed.'[1]Oberleutnant Wagner's scathing dismissal of women at war epitomises the gender challenges faced by Oberführerin Hanna Helmke and her female air signals assistants in "Blitzmädels an die Front" ('Lightning Girls on the Front'). Released on 22 August 1958, this obscure West German war film follows a fictional group of young German women who serve alongside the Luftwaffe (German air force) during the Second World War. The real-life Blitzmädels ('lightning girls') they are based on – nicknamed after the lightning bolts on their uniform sleeves – received, deciphered and transmitted Luftwaffe air battle reports in Nazi Germany and beyond.
Starring Eva Ingeborg Scholz, Antje Geerk, Edith Elmay, Nana Osten and Christiane Nielsen, Blitzmädels an die Fronttracks the women's adjustment to military discipline; to their new positions as Luftnachrichtenhelferinnen ('air signals assistants'); and, ultimately, their reactions to the Allied advance in 1944. The Luftnachrichtenhelferinnenare commanded by the firm-but-fair OberführerinHelmke (Scholz), who sternly informs them that 'a German girl doesn't smoke, doesn't drink, doesn't wear makeup and avoids jewellery.'[2] Helmke soon finds herself contending with the Blitzmädels' different personalities, from the flirty and sensual Diana Schramm (Elmay) to the meek Monika Fink (Uta Hallant).
Blitzmädels an die Frontstraddles many classic facets of a war film: frontline camaraderie; humanity and inhumanity; adversity and triumph; discipline and disorder. Its fixation on the female wartime experience, however, makes it rather unusual both then and now. More recent war films have chronicled women in the Second World War, such as resistance fighters in Black Book(2006); spies in Female Agents(2008); and codebreakers in The Imitation Game(2014). Yet women who served their countries' wartime armed forces in auxiliary capacities remain vastly underrepresented in Western cinema.
The film provides a vital, unflinching insight into misogyny against the women as they step into the machismo of wartime life on a Nachtjagdgeschwader ('Night Fighter Squadron') airbase. Whilst inspecting them, the General der Flieger (Robert Meyn) discusses the rumours with Major Köhler (Peter Gerhard) that the women 'have such pleasant voices'[3]; the Major gleefully replies that 'it's not only their voices that are remarkable, Herr General!'[4]to raucous laughter amongst the men. The General barely acknowledges the more experienced Oberführerin('Senior Leader') and proceeds to invite the 'prettiest'Blitzmädelsto his after-hours party.
At times, this boyish objectification tips into harassment and even assault, with Elfriede Bartsch (Claudia Gerstäcker) being promptly groped by one of the men helping the arriving Blitzmädelsoff the truck. After the Oberführerin asks where he touched her, the man replies smugly, 'genau an der richtigen Stelle!' – 'exactly in the right place!'. Karin Mertens (Geerk), meanwhile, is coveted by the possessive Wagner (Klausjürgen Wussow), who tells her that 'I am your superior'[5]before he strokes her breast.
However, Blitzmädels an die Frontchampions the women's challenging of these sexist confines. Karin tells Wagner that, 'you act like a really strong man – that you know everything and that nothing fazes you. You pretend to know what happens in the world, and you don't believe in anything. You have no friend, no wife…you are a poor man.'[6] This assertive example is set by the Oberführerin, who firmly corrects the Geschwaderkommodore ('Wing Commander') whenever he addresses her as 'Frau' ('Ms.') Helmke instead of Oberführerin. After he calls the women 'Damen' ('ladies'), the Oberführerinfurther asserts, 'please, not "Damen", Herr Major. They are Nachtrichtenhelferinnen and, as such, soldiers.'[7]
Blitzmädelsan die Frontis particularly unusual for a 1950s war film by keenly considering how war affects women closer to the frontline. After initially getting excited at being in 'Das Land der Liebe' ('The Country of Love' – France), the horrors of war soon catch up with the Blitzmädels.Margarethe Sanden (Nielsen) tragically hears her partner Fritz die over the radio as she helps to direct his night fighter unit; young Monika is abruptly removed from a train for frontline desertion after fleeing to visit her mother in bombed-out Frankfurt.
The film also illustrates the legal challenges of the Luftnachrichtenhelferinnen, as their wartime contract with the Wehrmachtmeant they did not come under military law.[8] The Blitzmädels subsequently attempt to board a casualty train in order to serve a new unit, but the Heer ('army') forbids them from doing so. The Oberführerinimplores the stubborn Hauptmann to let them board as 'we are only women!'[9]: their legal status left them unarmed, untrained and vulnerable in the immediate war zone.  However, after Helmke reminds him that the male troops' mothers are also women, he gives in after overhearing a wounded male soldier calling out for his own mother.
Blitzmädels an die Front's illustration of the women as both competent assistants and compassionate individuals, then, is a far cry from the passive role women often played in 1950s war films. Yet it was panned by the Lexikon des internationalen Films ('Lexicon of International Films') as a 'politically and morally questionable war film'.[10]Seeing as the film's women are relatively nonpoliticized, this comment likely refers to its creators. Interestingly, Johann Alexander Hübler-Kahla – the film's producer – had been imprisoned and 'kaltgestellt'('frozen out') from producing films under the Nazis after falsifying his Jewish ancestry.
The disingenuous past of its director and screenplay writer, however, tell another story. Werner Klinger seamlessly directed films in the Third Reich and West Germany from 1936 to 1967, though his filmography was not overtly political. Hans Hellmut Kirst's wartime service as an Oberleutnant ('Senior Lieutenant') in the Flugabwehr('Anti-Aircraft Defence') assisted with the technical authenticity of Blitzmädels an die Front. Yet Kirst – who later claimed he had 'confused National Socialism with Germany'[11]– was also a Nationalsozialistischer Führungsoffizier ('National Socialist Management Officer') with the Flak-Artillerie-Schule IV from April 1945.
As Theo J. Schulte has written, many of Nazi Germany's successful professionals underwent a 'collective amnesia'[12] as they continued their work in West Germany. It is possible that the film served as a means of exorcising the Nazi past of its creators, but its multifaceted legacy arguably makes it even more fascinating to analyse. In any case, Blitzmädels an die Front's remarkable portrayal of these complicated and courageous women renders its study of considerable importance when examining cinematic depictions of women at war.
Victoria Taylor is an aviation historian based at the University of Hull and Sheffield Hallam University. Her ongoing PhD research focusses on the interwar and wartime relationship between the Luftwaffe and National Socialism in the Third Reich. Twitter: @SpitfireFilly
 References
[1]Blitzmädels an die Front. Directed by Werner Klinger. Film produced by Hübler-Kahla Film (Distributed by Prisma-Filmverleih, Frankfurt am Main, 1958). Original: 'Frauen, Oberführerin, gehören in die Küche und ins Bett.'
[2]Ibid. Original: 'Ein deutsches Mädel raucht nicht, trinkt nicht, schminkt sich nicht und vermeidet Schmuck.'
[3]Ibid. Original: 'Sie haben so angenehme Stimmen, sagte er.'
[4]Ibid. Original: 'Nicht nur die Stimmen sind bemerkenswert, Herr General!'
[5]Ibid. Original: 'Schließlich bin ich ihre Vorgesetzte…'
[6]Ibid. Original: 'Sie tun so also ein sehr starker Mann, der alles kennt und der nicht erschütteln kann. Sie gehen vor zu wissen, was in der Welt geschieht, und Sie glauben an nichts. Hat keiner Freund, hat keine Frau…sie sind ein arme Mensch.'
[7]Ibid. Original: 'Bitte nicht "Damen", Herr Major, es sind Nachtrichtenhelferinnen und als solche, Soldaten.'
[8]P. Wigglesworth,Dissolution of the Luftwaffe: The Work of the British Air Forces of Occupation Germany, Vol 2: Feb. 1944 –Dec 1946 (London: HMSO, 1947), 18.
[9]Blitzmädels an die Front. Original: 'Wir sind doch Frauen'.
[10]'Blitzmädels an die Front', Lexikon des internationalen Films. Available online: https://www.zweitausendeins.de/filmlexikon/?sucheNach=titel&wert=26407 [Accessed 27 November 2018]. Original: 'Politisch und moralisch fragwürdiger Kriegsfilm'.
[11]S. H. Anderson, 'Hans Helmut Kirst; West German, 74, Wrote About Nazis', New York Times, February 24, 1989. Available online: https://www.nytimes.com/1989/02/24/obituaries/hans-helmut-kirst-west-german-74-wrote-about-nazis.html [Accessed 21 November 2018].
[12]T. J. Schulte, 'Soldiers and War Criminals: The Ongoing Debate about the Wehrmacht in the Second World War', in R. Barlett & K. Schönwälder (eds.), The German Lands and Eastern Europe: Essays on the History of their Social, Cultural and Political Relations(Basingstoke; London: Macmillan Press, 1999), 217 – 237.