In this latest post, Dr. Gillian Murphy (re) introduces us to Ruth Cavendish-Bentick, suffragette and socialist.

Ruth Cavendish-Bentinck was the illegitimate daughter of Ferdinand St Maur, the elder son of the 12th Duke of Somerset, and a half-gipsy maid. Her parents died when Ruth was young and she was brought up by her gr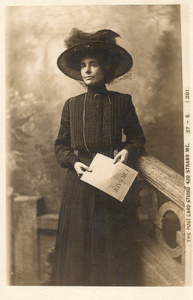 andparents, the Duke and Duchess of Somerset.
Her grandfather was an advocate of married women's property rights. Her great-aunt was Caroline Norton, who had launched and won the campaign to give women undisputed right of access to their children when they were estranged from their husbands. Ruth married Frederick Cavendish-Bentinck in 1885 and they had four children.
Ruth was a voracious reader and largely self-taught. Despite her aristocratic upbringing, Ruth was a socialist, involved with the National Federation of Women Workers and the Fabian Society. She was a keen supporter of the women's suffrage movement, quite willing to walk up and down outside the Houses of Parli
ament with billboards strapped to her. Ruth was an eloquent speaker and toured the country giving speeches about women's suffrage. She also organised, and took part in, the Women's March from Edinburgh to London in October 1912. She later joined the executive of the United Suffragists.
Cavendish-Bentinck Library
Ruth founded the Cavendish-Bentinck library in 1909 containing a thousand or so items about women or items that would be of interest to women. Her objective was to provide information for those who did not have the Parliamentary vote but who could vote in local elections since 1896. Ruth spent much money creating this library which includes many rare volumes from the 16th and 17th centuries. The library found a home at Marsham Street, eventually becoming part of the Women's Service Library, which is now the Women's Library at LSE. Ruth joined the executive of the London Society for Women's Service and she continued to donate books to the collection until she died in 1953. In the 1951 annual report, the Cavendish-Bentinck library had grown to some 10,000 bound volumes, 300 government publications, hundreds and hundreds of pamphlets, leaflets and press cuttings. Two of these volumes on Hertha Ayrton and Mary Somerville feature in the current exhibition at LSE Library The Sacred Year 1919: women and the professions running until 8 September 2019.
Digitisation of the Cavendish-Bentinck bound pamphlet volumes
Over time the suffrage pamphlets were bound and these volumes have now been digitised as part of a larger Women's Library suffrage digitisation project, which is available on LSE's Digital Library site. These bound volumes chart the suffrage movement particularly in the 19th century. Alongside the Cavendish-Bentinck bound pamphlets, a selection of suffrage journals, annual reports and pamphlets have been digitised as well. There are lots of annual reports of different suffrage groups and pamphlets written by different suffrage campaigners. Have a look at the site. It is searchable so you might be able to find that 'hidden' suffrage campaigner. The volumes also cover other areas such as the Women's Institute (not the WI) but a centre of information and meeting place for those involved in public and professional work (vol 23), the marriage law reform association pamphlets (vol 22) and women in the church (vol 18). More from the Women's Library collection is going to be added over the coming months.
https://digital.library.lse.ac.uk/browse#suffragecollection
For more on Ruth Cavendish-Bentinck and the Cavendish-Bendinck library see Elizabeth Crawford, The Women's Suffrage Movement. A Reference Guide  1866-1928 (1999) and John Colville Strange Inheritance (1983).
Dr Gillian Murphy is the Curator for Equality, Rights and Citizenship at LSE Library. She moved to LSE with the Women's Library in 2013, where she had worked as an archivist for many years. Gillian promotes the Women's Library collection and the Hall-Carpenter Archives through exhibitions, talks, blogs and workshops.