Strong Willed & Courageous … Margaret Schencke – A Woman of Fortitude
Margaret Schencke (Gretel in Germany, Margot in Britain) was born in 1888 in Zwickau in Saxony, Germany. She was the only child of her father's second marriage, but she had several half-brothers and sisters from her father's previous marriage.
Margot was our grandmother/ great grandmother.
After a huge storming row with her parents, with whom she had quite a tempestuous time in her later teenage years, Margot came to England. We think it was about 1908. Margot was strong willed and courageous. She stayed in Chelsea as a lodger in the house of William Montgomery Smith who was married to our Great (-Great) Aunt Margaret née Dixon.
Just after arriving in England Margot become involved with supporting the Suffragette movement.
In 1975 Margot was idly flicking through the Sunday Times only to find a picture of her in Holloway Prison. It was only then that she wrote to Midge MacKenzie describing her experiences that led to her going to Prison in 1913. It wasn't something that was spoken about, and it was only later that her family would talk about it with huge pride.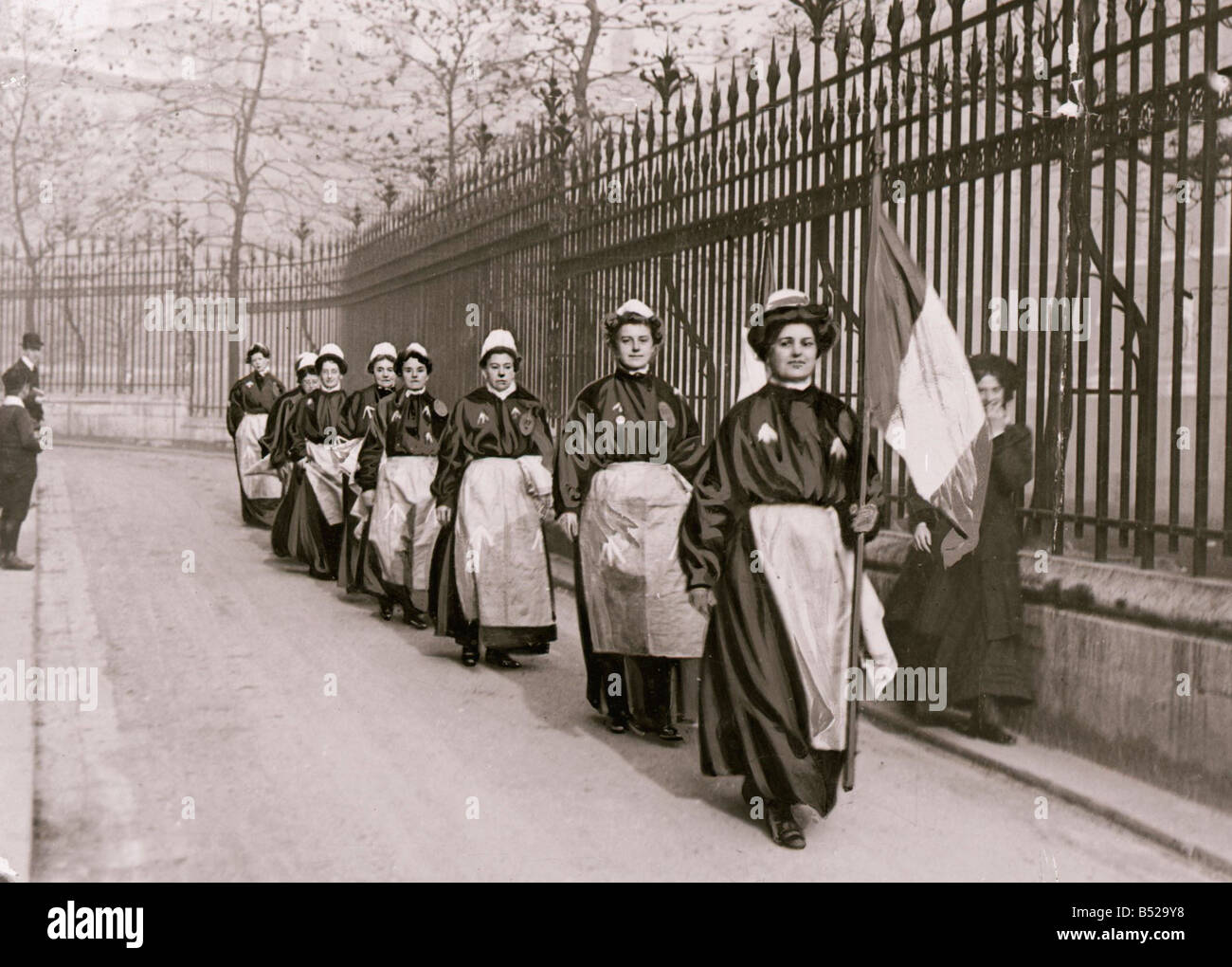 In her letter to Midge MacKenzie Margot described herself as small fry and no shining light of the Suffragette movement. She sold Suffragette papers at Hyde Park Corner and outside Whiteley's in Bayswater. This exercise was marred by well-dressed men coming up to her and making the 'most beastly sexual remarks'. Margot 'was not amused.' On another occasion she was holding the suffragette flag whilst a clergymen gave his address in Hyde Park. 'Suddenly a lot of hooligans came on the scene, took my flag and tried to get hold of me. It was most terrifying but then suddenly I found myself held by two policemen and two on horseback got rid of the crowds, all four led me out of the park and put me on the bus.'
Margot described the events that led to her arrest: 'When Mrs Pankhurst was arrested there was a protest march of suffragettes which I joined and I decided then to make my personal protest by throwing a stone through a Home Office window. I discussed this with two women (sisters), I walked with but did not know. They were most helpful, took me to their home and let me telephone home to say I might not be back. They gave me a stone. Then one of them also made a telephone call. Later it emerged that that they were spies and had warned Scotland Yard. So a detective waited kindly for me. For personal reasons I could not go to prison in my own name, so I became Margaret Scott and I got a one month sentence.'
The personal reasons that Margot described was that she was German and didn't want to be deported. She liked England and wanted to remain. Indeed she was about to get married to our Grandfather/Great-Grandfather Richard Dixon. Margot managed to hide that she was German from the Court and prison authorities.
Margot married Richard in July 1914 just before the outbreak of the First World War. He also lived with his sister in Chelsea.
Margaret Scott (Margot Schenke) is on the left
During her time in Holloway the Prison Authorities took photographs of the Suffragettes, the picture of her together with three others is one of the most often published. In her letter of 1975, Margot mentions several women who she met whilst in Prison: Olive Hoskin, an artist who carved the wooden chair in her cell, Margaret McFarlane, Mrs Despard and Jane Short (prison name Rachel Peace) who was on hunger strike.
Margot left the Suffragette movement when war broke out. She recalls 'Then the war broke out, I was convinced that the Suffragettes had really now won their case and the vote would soon be granted. I lost all connection with the movement and being married had my own busy life to live.'
Margot stayed in Britain for the rest of her life. She had two children, Barbara and Margaret who got to vote. She died in Ealing, London in 1983.
An important lesson Margot has taught (further to not to trust the police on a demonstration), is not to waste your vote, it's too important to throw away on not voting or voting for the party you don't want to see govern.
Becky Jarvis and Jo Sibert (c) January 2015
Becky Jarvis has followed in Margot's footsteps and is a campaigner who currently works for OPEN (Online Progressive Engagement Network), an alliance of the world's leading national digital campaigning organizations. Previously she worked for 38 Degrees where she campaigned to get out the vote, alongside other issues of social justice.
Jo Sibert is Emeritus Professor of Child Health, Cardiff University.
Posted in: Politics
Tags: Barbara Dixon, Becky Jarvis, Cardiff University, Child Health, Emmeline Pankhurst, First World War, Gretel Schencke, Holloway Prison, Hyde Park rallies, infiltrators of Suffragette Movement, Jane Short, Jo Sibert, Margaret Dixon, Margaret McFrlane, Margaret Schenke, Margaret Scott, Margot Dixon, Margot Schencke, Midge MacKenzie, Mrs Despard, Mrs Pankhurst, Olive Hoskin, OPEN (Online Progressive Engagement Network), protest marches, Rachel Peace, Richard Dixon, sexual abuse, sexual harassment, social justice, spies, stone-throwing suffragettes, Suffragete movement, suffragette flag, suffragettes, women's vote
Print This Post