I did not watch any of Margaret Thatcher's funeral, but media coverage of the event was difficult to avoid.  In the days that followed, discussion shifted away from Thatcher's life and politics towards scrutiny of the service, both in terms of content and composition – who was there and how they behaved.  My thoughts did likewise.  Initially I felt very guilty about this.  Despite having a bona fide research interest in fashion, pondering the ongoing saga of Sam Cam's headwear at official events made me feel complicit in a conspiracy to shift the focus away from addressing the harsher, more challenging issues that Thatcher's legacy has left behind.
A few weeks on, I still feel reticent about proposing a socio-cultural analysing of the funeral, but as a historian of modern Britain I do think that it was an interesting moment in which many of the themes and tropes that have dominated the recent past were evident.  This is not meant to detract from talking about events such as Hillsborough, or the miners' strikes, or the Falklands-Malvinas conflict (to name but three).  Nor is it meant to distract from considering the repercussions of Thatcherism in the twenty-first century.  Others will, quite rightly, continue to devote pages and air time to such issues.  In this post, however, I would like to briefly reflect upon celebrity attendance at the funeral, particularly the presence of Sarah, Duchess of York.
Photographs showing various famous faces, from Shirley Bassey to Terry Wogan, Joan Collins to June Whitfield, making their way into St Paul's Cathedral seemed incongruous.  Apart from the fact that the huge grins displayed by a number of supposed mourners seemed inappropriate for the occasion, the public imagination does not associate Thatcher with celebrity culture.  This marks her funeral out as different to other comparable events of recent years, namely the 2011 wedding of Prince William and Catherine Middleton and the 1997 funeral of Princess Diana.  In both those cases, the relationship between the figures involved in the service and their celebrity guests was generally well-known.  For instance, pictures showing Prince William and David Beckham, or Princess Diana with Elton John, were already commonplace in many newspapers and magazines.  In contrast, how many times have you seen a photograph of Katherine Jenkins and Margaret Thatcher on the front of Hello! or Now?  
This difference is not about royalty, but generation.  Thatcher and the paparazzi-celebrity circus are from different eras.  During her premiership, there was not the same pressure on politicians to court celebrities as they do today.  It was only in the mid-1990s, when 'Cool Britannia' and New Labour shared a cultural moment that we became accustomed to seeing prime ministers standing alongside pop stars and the like.  Thatcher belongs to a time before that, hence the celebrity roll-call at her funeral seemed out-of-place, inconsistent – a collision of two worlds as far apart as BBC computers and I-Phones. 
Yet I would argue that there was one exception to this: the attendance of Sarah, Duchess of York.  Of all the celebrities that went along, her presence seemed the most apt.  Her heyday in the mid-1980s coincided with the zenith of Thatcherism, and the confluence of the two is not surprising.  On the contrary, the Duchess of York is one of many examples of women in the royal family coming to epitomize the zeitgeist of their period.  Royal women have long served as a heavily gendered repository for the nation's hopes and aspirations, their public personas becoming inextricably linked with contemporary ideals of femininity.  In the 1950s and early 60s, women's magazines presented Queen Elizabeth II as a typical young wife and mother, albeit one with an exceptional role to carry out.  At the same time, they depicted her sister, Princess Margaret, as the ultimate girl-about-town, a common stereotype in magazines of that period.  By the early 1980s, the concern over Lady Diana Spencer's virginal status highlights the extent to which she represented a swansong for a highly mythologized image of innocent femininity that seemed to be in terminal decline (if it had ever really existed).  The cultural landscape was very different by the time Sarah Ferguson married the Queen's second son, Prince Andrew, in 1986.  In many ways, Fergie, as she was widely known, embodied these changes.  Lauded and subsequently loathed by the British media, many of the adjectives used to describe her also evoke the decade's Thatcherite culture: flamboyant, extravagant, loud, brash, vulgar, self-absorbed, nouveau riche, on-the-make.  She had her moment at the same time as the yuppie stockbrokers who guzzled champagne in the City, and in large part has Thatcher's policies and radical vision of a new social order to thank for that.  Regardless of her actual age, she is as much a child of Thatcher as anyone born in the 1980s.  As a result, I was not surprised that she attended the funeral on 17th April.   Moreover, seeing as she has already been involved in a biography of Queen Victoria, I would not be surprised if the Duchess of York produces a book about Thatcher.  Indeed, I believe it would be a fitting tribute.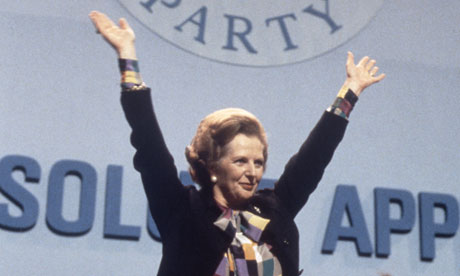 Rachel Ritchie (c) May 2013
Dr Rachel Ritchie is an Associate Research Fellow at Brunel University.  She is a republican who dreams of writing a magnum opus on royal women since Queen Victoria.  She also collects Andrew and Fergie wedding memorabilia (it's a very niche market).